Posted:
September 13th, 2010 |
Author:
Kink On Tap Editorial Staff
|
Filed under:
Briefs
|
Tags:
59
,
discrimination
,
gender
,
law
,
politics
|
Comments Off

on Carlos A. Ball: Why Bathrooms Are a Civil Rights Issue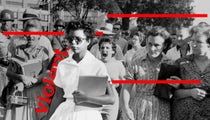 What does the Civil Rights Act of 1964, the women's movement, and the Americans with Disabilities Act all have in common? Toilets! In a succinct and thought-provoking analysis, law professor Carlos A. Ball notes that in each "of these civil rights struggles, there were conservative critics who dismissed bathroom-related advocacy by minority groups as unnecessary and even silly." What's more, he points out that the very same pattern is playing out right now about one of the most important civil rights acts of our time: the Employment Non-Discrimination Act (ENDA).
If enacted, ENDA would prohibit employers from discriminating against employees on the basis of sexual orientation or gender identity. So it should be unsurprising that Republican gubernatorial candidate for Massachusetts poo-pooed ENDA as "the bathroom bill." But there is a serious issue behind all this mocking and, as Mr. Ball illustrates, it's because bathrooms are so often on the front lines of civil rights struggles.
---