Posted:
July 7th, 2010 |
Author:
Kink On Tap Editorial Staff
|
Filed under:
Briefs
|
Tags:
49
,
culture
,
education
,
gender
,
research
,
women
|
Comments Off

on More Women Without Children – Pew Research Center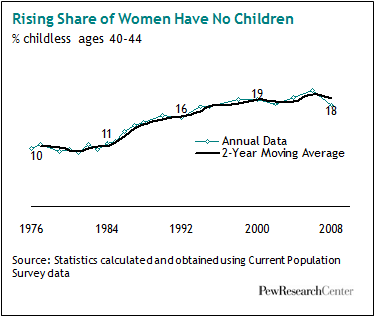 "Nearly one-in-five American women ends her childbearing years without having borne a child, compared with one-in-ten in the 1970s," according to a recent Pew Research report. Childbearing and rearing is arguably the most telling indicator of attitudes towards gender, and this report is full of interesting tidbits of that sort: "children increasingly are seen as less central to a good marriage. […] About half the public…say it makes no difference one way or the other that a growing share of women do not ever have children. Still, a notable share of Americans…say this trend is bad for society."
The authors write, "social pressure to bear children appears to have diminished for women and that today the decision to have a child is seen as an individual choice. Improved job opportunities and contraceptive methods help create alternatives for women who choose not to have children." The issue is partially classist, as white, well-educated women are still the most likely to be child-free.
---