Posted:
July 1st, 2010 |
Author:
Kink On Tap Editorial Staff
|
Filed under:
Briefs
|
Tags:
48
,
education
,
health
,
paranoia
,
safersex
,
sex
,
sexuality
,
youth
|
Comments Off

on Why Condoms for Kindergartners Makes Sense – Newsweek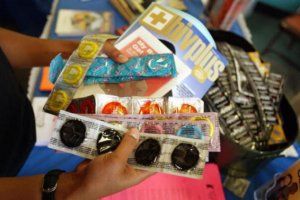 A new Massachusetts school policy "left intentionally open-ended, allows any student who is considering sexual activity to request condoms from the school nurse. That student would first get counseling—including abstinence education," Kate Dailey writes. Predictably, the policy faced "scorn and derision" after it hit mainstream news thanks to "moral hand-wringing of well-meaning but uninformed parents and pundits," like Kris Mineu, president of the Mass. Family Institute, who called it a "theater of the absurd."
"Theoretically," Kate writes, "yes, a 6-year-old could walk in and request condoms. The chances of that happening, of course, are slim—but if a 6-year-old were asking about sex, wouldn't a little counseling from a medical professional be in order? […C]ondoms don't make kids have sex. Hormones make kids have sex. Peer pressure makes kids have sex." Outright denial isn't going to change the fact that "kids develop on different timelines, and kids date outside their age range."
---